We are so happy to announce that even though we had to cancel the March workshop due to Corona Virus COVID-19, Petri Räisänen found a weekend we could enjoy his teachings with us at MYC in a four day workshop: August 13th – 16th 2020.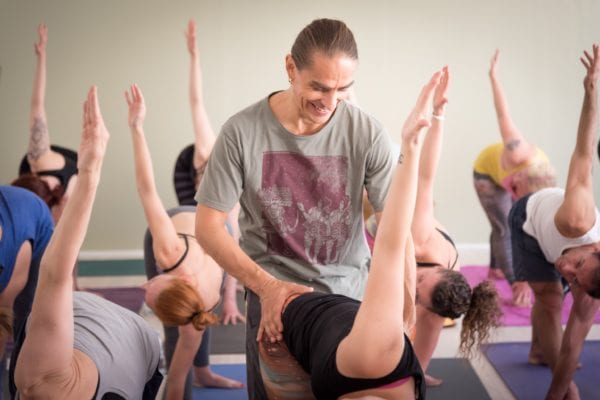 Petri Räisänen is an internationally renowned and respected yoga teacher. A devoted student of K. Pattabhi Jois (1915– 2009) and R. Sharath Jois, who both authorized Petri to teach in 2001. Petri carefully passes on teachings of Ashtanga tradition.
Petri focuses on integrating healing and therapy with yoga, meeting student's individual needs and guiding their progress. Petri's yoga pose adjustments are gentle, effective and therapeutic. His friendly, relaxed behaviour and intuivite perception give an open, energetic and meditative atmosphere to his classes.
Important news!
The Petri Räisänen workshop on August 13.-16. is filling up.
Full Workshop is full – but there are still single spots on the option 'Full Workshop except Guided Thursday', 'Weekend Package' and selected Morning Mysore classes.
Please contact us for booking: info@mysoreyogacph.dk
We are following the government guidelines closely – and the rules of distance is why we have limited space in our own Shala.
But don't panic
When you now try to book 'Full Workshop' through Mindbody, you can be placed on a Waiting list. Please do that, because we hope that the COVID-19 restrictions will improve to lessen the distance between participators, so we can gather more people within the safety regulations.
Or you can join the new option: 'Full Workshop except Guided Thursday' where there are some spots available. In this package you get access to Mysore classes Fri-Sun, Friday opening and the two Workshops Sat-Sun. All you miss is Guided Primary on Thursdag afternoon.