Petri Räisänen Workshop August 18th – 21th 2022
Registration is not yet open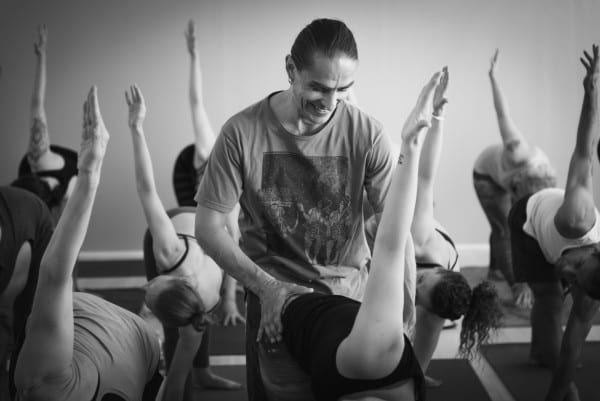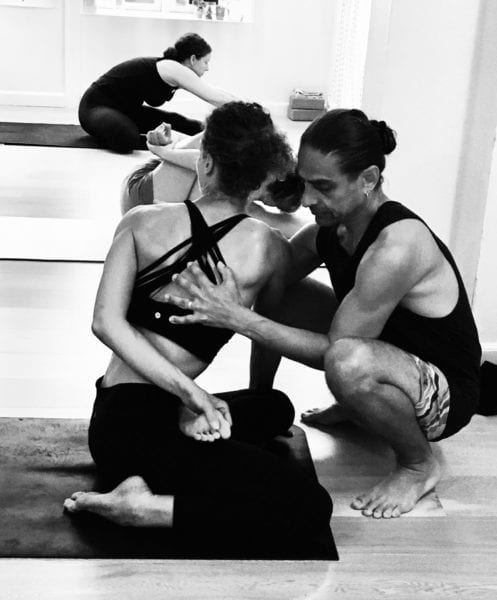 Petri Räisänen is an internationally renowned and respected yoga teacher. A devoted student of K. Pattabhi Jois (1915– 2009) and R. Sharath Jois, who both authorized Petri to teach in 2001. Petri carefully passes on teachings of Ashtanga tradition.
Petri started practicing Ashtanga yoga in 1989 and teaching in 1991. He is co-owner and director of Astanga Yoga Helsinki, one of the world's most established Ashtanga Yoga shalas. K. Pattabhi Jois blessed the school to teach the traditional Ashtanga method in 1997.
Petri has been teaching internationally around the world for over a decade and he lived in New York City for several years until 2008. His teaching style and adjustments are gentle, effective, therapeutic and originate, besides his own practice and teaching, from his past work as a traditional folk healer and naturopath.
Petri focuses on integrating healing and therapy with yoga, meeting student's individual needs and guiding their progress. Petri's yoga pose adjustments are gentle, effective, therapeutic and, according to some, almost magical, and originate (besides his own practice and teaching) from his past work as a traditional Finnish folk healer and naturopath. His friendly, relaxed behaviour and intuivite perception give an open, energetic and meditative atmosphere to his classes.
Petri has been written two books on the subjects of Ashtanga Yoga. First one "Ashtanga Yoga – In the tradition of Sri K. Pattabhi Jois" was first published in Swedish in 2005 and in English in 2013. The intermediate series book "Nadi Sodhana" was released in Finnish in 2008 and English in 2017. Both books are written from the interviews with K. Pattabhi Jois and R. Sharath Jois, the masters of Ashtanga Yoga system. They illustrate uniquely the Primary and Intermediate series practice, benefits and tradition as it is taught in Mysore, India.
Petri's variety of body-therapy work
Petri started studying the Finnish Folk-healing tradition called Jäsenkorjaus (Bone-setting), with the Finnish healing masters in 1988. In his 12 years of studies and 10 years of Folk-healing work he learned – besides of variety of Bone-setting adjustments – energy healing and cupping. He also studied Swedish massage, Naturopathy, Natural Cosmetics, Reiki, Reflexology and Hawaiian Shamanism. Petri has 30 years of Ashtanga Yoga-teaching experience and 33 years of personal Yoga practice.
Petri's website           Interview with Petri
Schedule:
Thursday, August 18th
5:00-7:30 pm (afternoon) – Guided primary with traditional Vinyasa counting, pranayama and meditation
Friday, August 19th
6:00-8:00 / 8:15-10:15 am – Mysore
5:00-6:30 pm (afternoon) – Workshop: Gratitude, compassion and love. During this session, we will focus on mind therapy techniques to create a respectful connection with yourself and others. This class consists of discussion and meditation. (Talk and Q&A)
Saturday, August 20th
7:00-9:00 / 9:15-11:15 am – Mysore
1:00-4:00 pm (afternoon) – Additional workshop:
Lecture: Yoga and Spiritual transformation. Samadhi's and The 3 layers of the Bandhas and how to use them i asanas. (Physical and Q&A)
Sunday, August 21th
7:00-9:00 / 9:15-11:15 am – Mysore
1:00-4:00 pm (afternoon) – Additional workshop: Om Mantra, meaning and how to use it in Asana and Pranayama, Om is the eternal Brahman itself. The expression of that (isvara) is Om. Pranava Om is the sound frequency of creation (heard as inner ringing sound). The repetition of that (Om-pranava) leads to realising of its meaning. (Taittirya Upanishad – chapter eight) We finish the workshop with a Healing meditation ending. (Talk, breath and Q&A)
4:00-4:20 pm (afternoon) – Thank you and goodbye 🙂
Prices:
If you have any trouble signing up please contact us – we are happy to help.
How to pay and enroll in 2 easy steps (registrations are now open):
1) Follow this link:  Register and pay here  and scroll down to the combination you choose – either 'Full Workshop' or some of the other combinations.
   Then return to this page
2) When you have signed in and payed, you're not quite done yet: We have to know which Mysore classes you want to attend – so now you just go to classes and book your spots through this link:  Choose your Morning Mysore classes
There are two morning Mysore classes Friday-Saturday-Sunday. You choose which ones you want to join. Then it says "Free Class". Thats only because you have already paid by choosing one af the packages or a number of classes.
If any questions please contact us. We may fix the enrollment for you.
Payment and cancellation policy:
Full payment is required to reserve your spot. Until July 18th 2022 you can cancel the workshop with a 20% administration fee. There are no refunds for cancellations made after July 18th 2022 (one month prior to the workshop start date). If the workshop is cancelled due to Government restrictions you will get your full payment back.