"The Tradition and Science of Pranayama"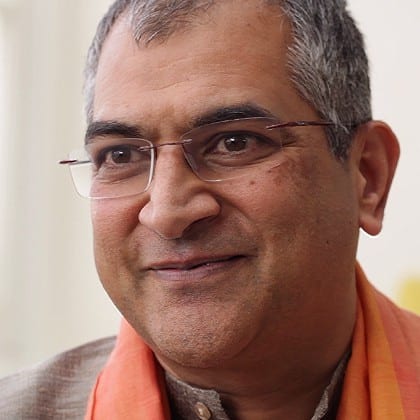 We are pleased to welcome Sri Sudhir Tiwari for the first time to Copenhagen. This is a unique opportunity to study with one of the most authentic voices in the world of modern yoga. Both a yogi and ayurvedic expert, Sudhir shares his understanding of the science and philosophy of pranayama and ayurveda in a clear and accessible way.
The workshop will be a practical journey to experience the benefits of the traditional breathing techniques in our health and thinking. We will examine pranayama, its purpose, technique and benefits in-depth according both to classical yoga philosophy as well as how it is supported by modern science. The workshop will include personal pulse diagnosis to determine your individual practice recommendations.
Sri Sudhir Tiwari is the eldest son of the beloved and highly respected pranayama master Sri O.P. Tiwari. He was brought up at one of the oldest and most traditional schools of yoga in the world, the foremost scientific yoga research institute Kaivalyadham Yoga Institute, in Lonavala, India, amidst rich traditional yogic heritage of Swami Madhavdasji Maharaj, Swami Kuvalyanandaji and Swami Digambarji.
At his father's request, Sudhir travels around the world conducting workshops in the theory and practice of yoga (asana, pranayama, meditation, chanting) and ayurveda, and spreading the fundamentals of undiluted yoga. He is a rare example of a humble, yet energetic and enthusiastic teacher with a mastery and knowledge of yoga you won´t encounter very often. Sudhir lives in Toronto, Canada, with his wife and two children.
Program
Introduction and foundation:
Thursday August 18 at 17-19
Practice and theory:
Friday August 19 at 7-8.30 and 17-19
Saturday August 20 at 9-11 and 12.30-15
Sunday August 21 at 9-11 and 12.30-15
'Practice and Theory' sessions will include pranayama practices with individual guidance and pulse reading, philosophy and science of pranayama and yoga, Q&A, chanting, meditation, and light asana practices.
Price
Early bird price for the full workshop 1800 DKK (until June 30 2016)
Full workshop paid after June 30: 2000 DKK
Payment and cancellation policy
Full payment is required to reserve your spot. There will be a 20% administration fee on refunds for cancellations made one week in advance. There are no refunds for cancellations made less than one week prior to the workshop start date.