Saturday 23rd March, 10-12.30. Workshop is free.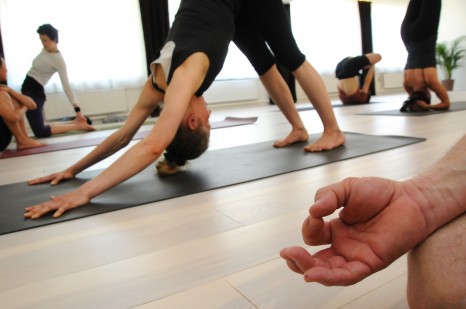 This Yoga Lab mini-workshop is for the students of Astanga yoga who have started the practice in an intro course, Mysore style or guided classes, but building up a regular rhythm has turned out to be a challenge. In this supportive, fun and informative session we will for example:
Go through the basic techniques and sequence
Learn about the philosophy and practicalities of Mysore practice
Provide useful tips on how to build up a steady practice routine
The workshop is free and is suitable for anybody curious, anxious or eager about starting the Mysore style Astanga yoga practice. Workshop students can attend the Mysore class the following day (Sunday) and implement what they've learned.
Workshop is free, but please register online.
New classes for beginners
From Sunday March 17th we will also offer two new classes for the new students of Astanga yoga.
"Beginners" class is a slot inside a regular Mysore class, where we provide extra guidance to the new practitioners. Beginners will practice as their own group and there will be a teacher dedicated to helping only new students.
All the instruction is individual like in regular Mysore class, but the setting gives even better opportunity to offer personal guidance and to help build up an own routine.
"Beginners" class times are Wednesdays 17-18 and Sundays 10.30-11.30.  Please note that new students are not limited to Beginners slot, but are invited to attend all Mysore classes.